Our colorful (and of course, beautiful) world is becoming faded away and transformed into gray by this unwanted worse that makes our living uncertain. We were not ready for such an unknown curse that appeared without any prior notice or even without having an offense of 760 crore common global citizens. We love peace, friendship, and a healthy relation to all we admire most. We love living with a sense of artistry; we like poems, literature, music, movies; we consider it essential for our life out of other requirements.
 Unfortunately, some of the irresponsible individuals which are only 1 or 2 percent of us, have the attitude to do something that can keep up their contracted interest. They have no concern with such anthropomorphic virtue stated above. But we have; we want to make our lives more pleasant; we have to carry up the virtue of humanity; this is why the art world is still alive out of all the calamities which are trying to sink our living. Beyond the words, it has the universal language that could speak to everyone, it has the ability to send the message that could touch the human soul silently.
 As an artist, I too have felt the torment of the human soul which stimulated me to go ahead with my canvas. I painted the notable sacrifice of the doctors and nurses around the world. They put their life at risk just to save us and as an outcome, many of them are affected in Covid-19 and struggling to overcome the situation. In my region, the same fact is still rolling. I realized God does not only appear as a spirit being but also a human being which sometimes plays a vital role to save our life. It appears as a savior of human civilization and therefore, I titled this painting, - 'Savior'. We also have shown our moral support to those doctors in several ways and encouraged them to go-ahead. It was not just our duty but was must-done work that could show our solidarity. As an artist, I have taken a step farther to show my homage and depicted this painting during the isolation period, which is still on the go.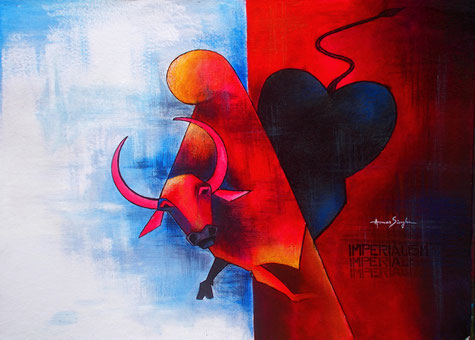 My second painting born from the fear of the situation I came across by several factors that explored the news agencies. An unknown fear of sudden lunge made me stimulate myself in a worse situation. Is it a start of financial imperialism that will make us bound to obey at a later time? What should we do if it becomes true? Is it a kind of biological war? That unknown fear formed on the canvas and I completed the second painting titled, - 'The war of imperialism'. A red bull turns out from the dark side and jumps over to us to destroy everything. We led an unusual lifespan that has been changing ourselves slowly; I don't know what will be the outcome of it. It has stolen our usual freedom. Does it bear a message of our upcoming future? Personally, I don't want social distancing because I am social and indeed, we will be. We love getting together, we love helping each other because we are the citizens of the global village. Then why do we have to maintain the social distance for the lifelong?
 During the time of isolation,  the Good Art Guide of Newcastle, UK has arranged an online exhibition. It was their endeavor to collect paintings from artists around the world who are working in the meantime by staying at home. They had to raise the voice of artists about the situation we are passing through. I was offered by the Good Art Guide to show my painting titled, - 'Savior' in the online exhibition they are presently running on their website. I thanked the Good Art Guide for allowing my painting in this exhibition. Indeed, they have an amazing collection of paintings that will make you spellbound for a while. Check it out.
Secondly, the Artdex offered to their member artists to submit their paintings they completed during the time of isolation in the project of #Artdex Quarantine Art.  You may be aware of such a fabulous platform of Artdex I discussed in my past article. They took the initiative because they committed to helping provide the support and inspiration as our strange reality of quarantined lives and daily development unfold as we now enter into May. They said to all the member artists that in this moment of reflection on how to bring art to you and share our lives with our communities around the world. They wanted to share their collective experiences of isolation in which they all find themselves managing through from one day to the next. They split the project into six categories; such as, - 
A Quarantine Portrait
A Masterpiece Recreated
A Household Object Still-Life
Something Indispensable
Life After Quarantine
A Quarantine Psyche.
No doubt, it was a great initiative they rolled out and as an outcome, art lovers around the world experienced a great collection of art that can touch their soul. Once again, the collection makes me believe that the language of art is universal out of the boundaries of the territory, geographic location, culture, and even the political perspective. Below is the video slideshow of the recent project of Artdex.
As the ambassador of Artdex, I made the campaign on my social channels and forwarded the newsletter to some artists with a request of joining to Artdex. I got a message from the founder of Artdex named Jenny to contribute to this project. She is also one of the trustees of MoMA and a highly experienced individual in the art world. But for us, she is really an amazing person with a friendly approach. I submitted two paintings which are now in their beautiful album.
 The World Citizen Artists also host an art competition titled, - 'Solidarity for all', during this coronavirus outbreak. They raise the artist's voice in favor of peace, solidarity, and humanity not only with the stream of painting, but also with the rhythm of the music. The deadline for submission is 31 May.
 All the above-stated activities undoubtedly proclaimed that no one could be able to stop the creative spirit of the human being. It has the power to overcome all the calamities, no matter whether it is man-made or natural. Human lifespan could be stoppable by anyway, but the world of art is the world of endless energy that could revive itself like a mythical phoenix bird to send the message of humanity, peace, solidarity, and morality. It also announces that beyond all, art is an essential thing for the human being. I have a report of some art websites getting visitors in double during the lockdown period which proves that we need it, we love it, and this is why we should take more time to live to enjoy the artistry.  
 In the end, I would like to inform you that still, I am ready to receive the order from anyone who has or had a plan to purchase a painting. The best part, if you want to book any of my paintings during this lockdown, you will get a 10% discount plus free shipping! So, just book a painting with a 25% amount of listed price. The rest you will have to pay before shipping. If you want to learn more, feel free to contact me. I'll be more than happy to assist you. 
Be safe and take care of yourself and your family. Finally, don't forget to share your thought. What's your perspective on the recent situation? Are you ready to adopt the upcoming changes in your life? How a painting could make you optimistic? I am eager to see your opinion.
---