Each artist has a separate style and the process of painting that convey their unique thought and vision. It's all about the related world around the artist accommodates to reform the individual structural value based on their experience.  As an inhabitant of the rural area, my painting also echoes the value of rural life span within a specific character narrates of its own significance.  Within a geometric form, implementation of the Indian grammatical notion produces my desired synthesis that can speak everything of my experience.
Getting requests from several niches to show a video demo of my painting process, here I arranged a complete demonstration of my recently finished painting titled - Village housewives. Hope my little effort will make you pleasure.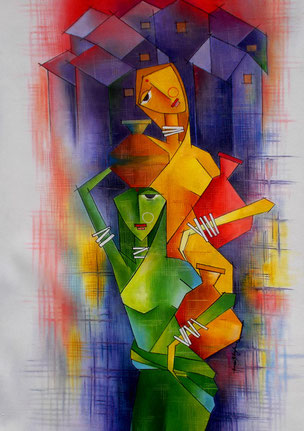 The painting about the typical daily routine of rural life. Twice a day, village girls accumulated water from the local river or ponds, to use. Once in the morning and next, in the evening. I come across such an insignificant scene daily while walking in the riverside of the evening. But sometimes, the view gets poetic in the twilight and the silent evening becomes lingual with their murmuring voice that dramatically fades out with their away. The silence reverts again around the riverside; only the residual sound of flowing water exist around me. 
It always takes me to a new imaginary world and I find myself once again within my creative spirit.  
There is a lot of things around us we overlooked but in those insignificant events are just like little flowers of the grasses we walk unconsciously to our destination by pressing them out. I just love to pick out those and prepare a nice chain of those flowers to give someone who will be happy to get it. 
What do you think? am I right?  if you have a similar experience, just share it here; I'll be more than happy to make it a featured comment. Thank you.
---