In the student life of my art college, I got amazed as well as curious to see the sculptures in the Calcutta Museum. It was a part of our learning to study the Indian sculptures positioned in that museum. Hence, history was one of my favorite subjects; I had the curiosity based around those ancient sculptures. 
After completing the course of fine art, I started traveling across India each year. Most of those were historical places related to Hindu religion. It was an opportunity for me to get closer to those ancient sculptures and discover the incidental myths or real facts behind it. It helped me to understand widely the pulse of Indian sculptures. Getting involved in several times with the ancient sculptures of India, I came across some of the hidden secrets related to India's earliest process of yoga and some religious doctrines based on the real facts. It made me amazed and I considered taking some notes to work on it later. 
Having the experience of spending a lot of times in Himalayan valley also helped me to realize the truths behind Indian theological concepts which concurrently made an impact on those Indian sculptures. Indeed, in the open eye, Indian sculpture is not what we consider on average. There is a significant depth of philosophical sense which indicates a universal truth and a meaning of our human life. As a painter, it made a wide impression in my heart and it controlled over the direction of the spiritual life I left back.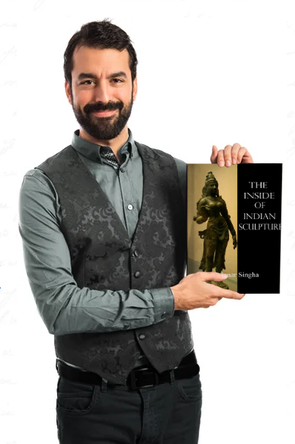 Nevertheless, it was out of my dream to write a book on this subject later. At the past, I wrote a book about the cave paintings of Ajanta which got the positive responses from the readers. It also gained a huge impression during the time of writing on this blog. Unfortunately, I bounded to replace the commenting system of this blog with Disqus and therefore, all the previous comments removed as well. However, I got inspired by the readers to go ahead once again with my new articles about the Indian sculptures published serially in this blog. Some of my articles also published in the Niume Magazine of London and won the golden badge award. In fact, those articles were just like the outlines of Indian sculptures. At the time of composing all the articles in a book, I edited all of those and included a lot of information extensively to make a complete guideline of Indian sculptures as possible.   
Indeed, to understand this section of artistry, we need to have the knowledge not only in the grammatical aspect but also in the traditional Indian culture, Indian Hindu spiritualism, and of course, in Indian history. The backbone of Indian culture built with a significant spiritual philosophy blinks with the pulse of theological realization, which undoubtedly stands on the absolute truth.  
During the time of traveling across India, I had several great experiences which I included in this book, as I felt necessary. Hope you will have a good experience of reading and will gain some information which you never find anywhere even in Wikipedia; because those are related to my life and direct experience. My artistic intuition helps me to judge those sculptures from the grammatical aspects whereas, my past experience of spiritual life also helps me to understand some secrets behind it. My discussion performed from both of the points because those are correlated with each other.
I designed the cover page of this book by considering the subject matter that could reflect perfectly the motive of this book.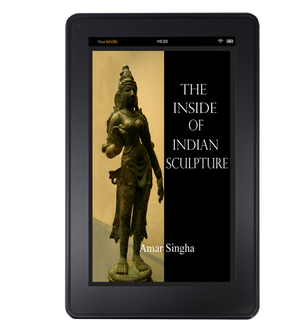 Currently, this book available on Amazon in both Kindle and paperback version; however, considering it expensive for Indian readers, I would like to suggest you wait a while until the paperback will be published in India. Just subscribe this blog and you will be notified by mail with a link to the publisher when it gets ready to purchase at Indian price.
 I am also happy to offer you a giveaway of a nice digital version of this book which you can read in your Android or laptop. Please contact me for a digital version, I'll send you the book by mail. Before making the decision to purchase the paperback, it would be a great opportunity for you to read this book in a digital version. 
 The remuneration that you would like to consider for this book will encourage me to go confidently, and it also helps me to continue my studio work. Finally, thank you so much for your kind support to an artist. 
---
---